How Does Pet Insurance Work?

With Petsecure pet health insurance, you choose the level of coverage that's right for you, and select an annual deductible.
Petsecure policies can be issued for pets from the age of 8 weeks old. Unlike with other providers, Petsecure does not have any upper age limits. Like with human insurance, the younger and healthier your pet is when their policy is underwritten, the more they are covered for. If your pet has any pre-existing conditions, they may be excluded either temporarily or permanently from your policy but there are still benefits to being insured no matter how old your pet is or if they have a medical condition.
Once you are covered, you can raise or lower your level of coverage whenever you want. Of course your deductible and premiums will also change along with your coverage amounts.

Your waiting period is the time between purchasing Petsecure pet insurance, and the date at which your coverage becomes effective. For example, if you enrolled on January 1st your coverage for accidents would start on January 3rd, 48 hours after enrollment. Waiting period for an illness is 14 days, and therefore, your pet insurance coverage would start on January 15th.
The waiting period is in place to prevent fraudulent claims, such as trying to enroll immediately following an accident, or the diagnosis of a major illness.

Visit your veterinarian as usual. Next, pay the invoice and have your veterinarian complete your claim form and sign it. Fax or mail the claim form to Petsecure pet health Insurance, along with a copy of your paid and itemized veterinary bill.
When you have pet insurance you know you're covered. No more waiting to see how serious your pet's illness or injury really is!

Once your claim form is received by Petsecure pet insurance, it's assessed by our claims team. Normally, within 5 working days a cheque is in the mail, on its way to you. The cheque will be for the claim amount, minus any applicable co-insurance and deductible up to your pet insurance policy's annual maximum for each condition.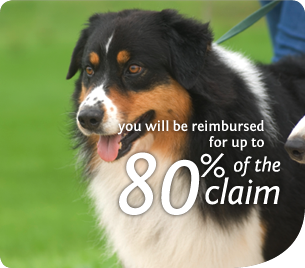 Cartouche's True Tail -
a pet insurance testimonial
"The only way we could financially afford to fight Cartouche's cancer was by having pet health insurance." Read Cartouche's Story...
x
Cartouche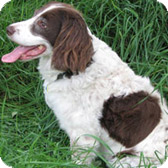 Yvan Riel, Otterburn Park, Quebec
Cartouche was such a happy English Springer. He loved to run and jump, and was often seen with his nose to the ground, sniffing out fowl. One day, as he was leaping over a ditch, he tore the ligaments around his knee. He had surgery to the knee and after one month of recovery, he was eager to get back to playing and exploring.
Six months later he fell sick. We took him to our veterinarian and it turned out our beloved Cartouche had Cancer. The Cancer had attacked one of his kidneys and the organ was so damaged that removing it was the only thing that could save his life. He wasn't even nine yet. We wanted him to live a long and healthy life so we decided to help him fight his illness.
Our veterinarian gave us options, some were quite expensive and out of our means, such as injected chemotherapy every month for $450. After we had Cartouche's damaged kidney removed, we decided to go with oral chemotherapy treatment because it was a less aggressive treatment and a lower dose of chemotherapy. The surgery was around $4,000.00 and the oral chemotherapy was around $35 per month.
Cartouche was getting better, but we could tell the surgery had taken its toll. He didn't have the same energy he once had and he slowly became sick again. This time the Cancer had spread to his other kidney, bladder and spine.
Putting Cartouche down was one of the hardest decisions we've ever had to make and we're still very emotional about our loss. We knew it was the right decision because he couldn't control his bladder any longer and his legs were too weak to walk up and down the stairs. He was in pain and there was nothing else we could do for him.
As much as we miss Cartouche, we are grateful that we had last summer with him. Our veterinary practice provided excellent care and none of this would have been possible if it wasn't for the financial aid that Petsecure pet health insurance provided us.
Like every pet owner out there, we hoped we would only have to visit our veterinarian for annual check-ups but it was so nice to know that because we had prepared and planned for the unexpected the help was there if we needed it. There is no doubt in our minds that the next dog we get will be on Petsecure.