What is Pet Insurance?
No matter how much love and care we provide our pets, accidents and illness are still beyond our control. That's why there's pet insurance!
Pet insurance is a way for pet parents to prepare and plan for those unexpected events in their pet's life. It's the security of knowing that if a veterinary treatment was suddenly needed you would have the financial means to make sure you could afford the best possible care available for your pet. Pet insurance is peace of mind that you and your furry loved one will be...All taken care of.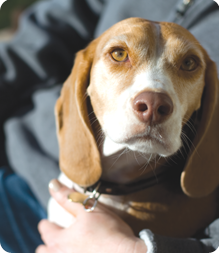 Pet health insurance plans vary from company to company, but generally cover fees due to accidents and illness such as hospitalization, diagnostics, prescriptions, surgeries and alternative therapies. With Petsecure, even coverage for dental and preventive care is available!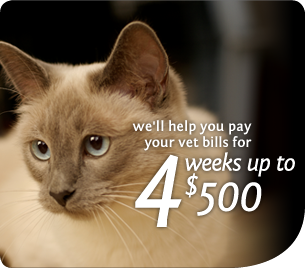 Wookie's True Tail -
a pet insurance testimonial
"Animals are not items to be bought, sold, replaced or discarded"
Read Wookie's Story...
x
Wookie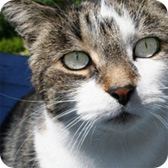 Lesley Fox, Vancouver, BC
Wookie and Daisy were adopted from a shelter in Windsor, Ontario, and we have been a family for over 12 years now.
Over their lifetime I have easily spent thousands of dollars on vet bills. I never really considered the difference that pet insurance could make, I just thought it was too expensive. What was I thinking?
Last year, I finally decided to get Petsecure pet insurance when Wookie was 12 and Daisy was 11. As seniors, I think it is essential they have insurance, because we will be facing even more challenges as they age. Having pet insurance means I no longer have to make myself broke, stressed out, or frantic in scrounging an extra dollar or two. Pet insurance is HUGE peace of mind - I can finally focus on providing the best care for my girls. What a weight off my shoulders!
Pet insurance is so proactive because veterinary bills only get steeper. There are so many specialists and sophisticated procedures now available - my girls have had their teeth cleaned, cavities pulled, seen dermatologists, and have had ultrasounds. Daisy has been to a bone specialist, and Wookie has had behavioral therapy. It is amazing what services are available to them. No doubt, all of these medical advances have added to their quality and length of life.
As an animal guardian, I think it is our duty and responsibility to provide the best care we can. Animals are not items to be bought, sold, replaced, or discarded. They are all individual, sentient beings, who are at our mercy.
Pet insurance from Petsecure has done wonders for our family.