Who We Are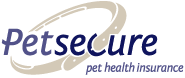 Petsecure pet health insurance is the largest and oldest pet insurance company in Canada.
Since 1989, we've been providing innovative coverage to pet parents across the country while giving back to the Canadian pet community on a daily basis.
Petsecure has one easy-to-understand Secure For Life™ plan, with 4 levels of coverage and 2 deductible options to choose from, so you can truly customize a plan to fit your pet's needs and your budget.
Our goal is to ensure that pets across the country enjoy longer, fuller and healthier lives and that both your needs are...All taken care of.
For more information on Petsecure visit www.petsecure.com.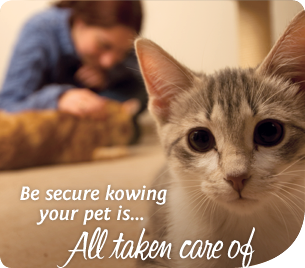 Stuart's True Tail -
a pet insurance testimonial
"Our bill was $14,000 and thankfully, we had coverage through Petsecure to help us out" Read Stuart's Story
x
Stuart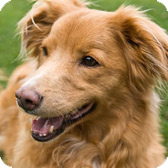 Emma, F, Quebec
One day we took our three year old Stuart for a walk and he barely had the strength to lift his tail. We took him to our veterinarian thinking that he may have hurt his back. After his exam, they didn't find anything out of the ordinary, so we took him home. Two days later, Stuart was licking the cement walls on the exterior of our home. His behaviour was erratic and we became even more worried about him.
When we took him back to our veterinarian, we discovered Stuart was anemic and required emergency treatment right away. Results of a blood test showed that he had Lyme disease, carried from a tick that we removed from him months ago.
We drove Stuart to the animal hospital with a horrible feeling in our stomachs. His anemia was so severe that a blood transfusion became a priority. He quickly became jaundiced (his eyes and skin turned yellow) as the blood was not a perfect match and he suffered several blood clots. Finally, an exact blood match was located and his immune system did not reject it.
Stuart spent 10 days in intensive care and required treatment to suppress his immune system for the next nine months, which included being on seven different pills a day.
We are so happy we had Petsecure pet health insurance to pay the maximum limit on Stuart's coverage level, which was one less thing we had to worry about. We knew that at least some of the enormous bill ($14,000.00) would be covered. After this happened we changed our plan so that we now have unlimited coverage for Stuart. You never know what's around the corner and we weren't about to take the chance.
Today Stuart is still with us. He just turned nine and he's still that happy and energetic dog we know and love. Thanks Petsecure!